Many business marketing professionals struggle to stay at the forefront of business marketing innovation for many reasons. Fortunately, technology innovation has continued to evolve providing us more ways of staying informed and educated. One of the ways marketing experts stay informed on new, innovative ways of reaching and communicating with consumers is through Internet Marketing podcasts by many great leaders. In this article, we share six of the top marketing podcasts for business leaders who would like to stay informed on Internet marketing and new trends.
Six Internet Marketing Podcasts We Follow
We start with a podcast from a popular, entrepreneur out of Kansas City, Missouri and gentlemen we have met John Jantsch with Duct Tape Marketing. John hosts a down to earth podcast that answers business owners' Internet marketing, social media and SEO questions. The Internet marketing podcasts talk about how to make social media work for small businesses and includes teaching on how to change the direction of the masses.
Empire Flippers by Justin Cooke and Joe Magnotti talks about building, growing, buying and selling websites and web properties. While this doesn't always apply to everyone, they do a great job of sharing tactics and techniques important for generating web traffic and customers. Through their Internet marketing podcasts, they share how they promote social media engagement specifically through Twitter to lift their brands from unknown to high demand for products.
Smart Passive Income is hosted by Pat Flynn who jokes about himself as the "Crash Dummy" of online business sharing what works and what doesn't with Internet marketing. This podcast teaches how to build a better business, and Pat is one of the best at growing multiple income streams through multiple businesses.
I Love Marketing by Dean Jackson and Joe Polish has become one of the leading Internet marketing podcasts around the world for entrepreneurs who want more business than they can handle. Dean and Joe do a great job ham and egging marketing topics and innovative ideas. Dean's a marketing guy by nature, and Joe is an entrepreneur whose had success with multiple businesses.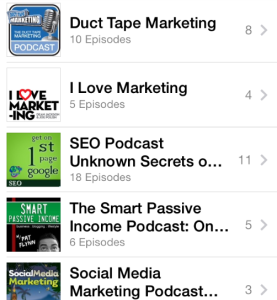 SEO Podcast Unknown Secrets by Chris Burres and Charles Lewis is one of our favorites produced out of Houston, Texas. Charles is one of the best in the world with everything Internet marketing, and Chris does a great job of facilitating the show to provide as much value as you can imagine in 20-25 minutes. In this podcast, they cover SEO and SEM, web design and local marketing best practices in great detail, yet pretty quickly.
Social Media Examiner is a show by Michael Stelzer covering as much as any other podcast we've found on social media and how social media marketing helps businesses find leads, increase sales and improve branding for products and services. When there are any changes in social media platforms, you can bet Michael will cover them as quickly and thoroughly as anyone.
While there are many other Internet marketing podcasts worth listening to from time to time, these six are the ones we tend to follow regularly.