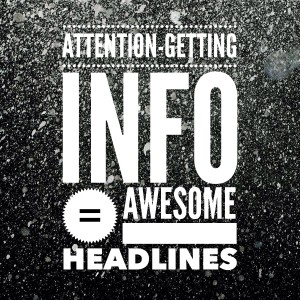 The world of online marketing can be divided into "buckets" like search engine optimization, lead generation, content marketing, inbound link strategies, and a variety of other topics. Each one of these specific areas serves a purpose in your overall marketing strategy, with the ultimate goal being to create more site visitor traffic and then convert that traffic from window shoppers into qualified leads and established customers.
Content marketing has become one of the most important weapons in the marketing arsenal for companies of all sizes. This shift toward greater adherence to the mantra "content is king" has evolved primarily because of the proliferation of online marketing content and demand from site visitors for more unique, engaging, informative, and valuable data. Studies have shown, however, that your time allotment for capturing a visitor's attention and motivating them to enter your marketing funnel can be measured in a few beats of a hummingbird's wings. In other words, if you don't immediately engage your visitor, you've lost them already.
The most critical piece of information in your content marketing strategy is your headlines. Because web visitors can lose interest in the blink of an eye (literally), your headlines have to reach out and grab them. The key to attention-getting headlines is providing attention-getting information in the span of a single sentence. Your headlines should never be vague, generic, or anything less than excellent.
At the very least, your headlines should provide a glimpse into what the body of your content is about and allude to solving a problem, meeting a need, or fulfilling a want that your visitors may or may not know they have. For example, which is more interesting, "online lead generation strategies for 2014" or "2014's best kept secrets in lead generation are the keys to your marketing success"?
Your headlines should be original, above all else. Nothing can chase away a potential lead faster than to provide them with a rehashing of the same content they've skipped past in dozens of other online locations. When you have mastered the art of crafting amazing headlines, you will see amazing results in your content marketing efforts.
If you are interested to see how Social180 can help boost your business with content marketing, connect with us here or take our fit test to see how compatible we are with you!