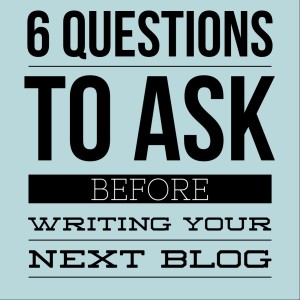 Practically everyone has a blog these days, even to the extremes of people's pets and inanimate objects having a blog. So I guess we can literally say, "Everyone and their dog has a blog these days."
As part of an online marketing strategy, blog content can be a great way to reach your potential customers in a more personal way or to provide them with an "insider's" look at you, your company, and your products or services, or even establish yourself as an expert in your industry.
Before you begin sharing your knowledge or spreading the word about your company's latest achievements in a blog, however, you'll want to ask yourself several questions. While there are no "wrong" answers to these questions, they should help you refine the focus of your blog's content and enable you to create blog content that will have your readers coming back for more.
Ask Yourself These Critical Thinking Questions
1. What is the main subject of your blog? Ideally, a blog should be built around a single focus rather than many disconnected topics, especially if you are using it as part of your business' marketing campaign.
2. How long should your blog post be? Most experts recommend 400 to 800 words. Too little information leaves your reader dissatisfied, while too much leaves them overwhelmed.
3. Will you be creating the content for your company's blog or as a guest blogger elsewhere on the Internet? Don't put too much stock into this, but a "guest appearance" on the RIGHT blog could really boost your credibility and add valuable links back to your main website as well.
4. What demographic are you trying to reach? While you may want your blogs to be read by as many people as possible, it is ideal to have a particular group (or identifiable "persona") of people that make up your "ideal" audience. The more clearly you can describe them and their preferences, the better your content tends to resonate with them.
5. What do you want your blog to accomplish? Are you using your blog content to pitch a new product, discuss the latest industry news, deliver helpful information, or solicit feedback?
6. Do your blog posts consist of original, informative, engaging, and valuable content? This is perhaps the most vital question, because today's savvy internet users want "new and improved" content that adds value, not just the "same old, same old" stuff they can find anywhere.
Don't Wait. Get Started.
All that said, don't get bogged down by the details. It's better to write something consistently than nothing at all. The more you write, the easier it gets and the better your content will tend to be over time. Now that you have a better idea of the role blogs can play in gaining exposure for your company, you should be better able to craft blog content that packs a punch and compels your readers to stay tuned for your next blog entry. Happy blogging!