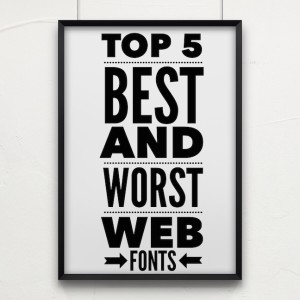 In a world increasingly dependent on e-commerce, the first thing that customers notice about your company is often its website. Just as you are judged by your appearance when you walk into a business meeting, your site's appearance– including small details and nuances like typography and color –has a dramatic effect on a potential customer's willingness to do business with you. This is why the right typeface is such a crucial, albeit small, detail that can make a fundamental impression for your visitors.
Many designers and digital agencies will have varying opinions about precisely what web fonts to include (and avoid) on your website and online presence. We've included a small list detailing which web fonts to hold as your go-to selections for the web, as well as selections to stay away from.
Use These:
Helvetica: This font has a lot of respect in both the online and offline publishing worlds. The letters are geometrically perfect, so they all appear to be roughly the same size. The separation between characters make this a font that is easy to read at a distance.
Garamond: Among web fonts, Garamond is widely considered ideal for large blocks of text. Each of the characters has a straight lined, traditional look that has made it even more popular than Times New Roman for many print applications.
Open Sans: Though other web fonts might be easier to read at a distance, few are as adaptable to mobile devices as Open Sans. The lack of serifs allow the characters to be wider than in some other fonts, while still maintaining an open and neutral feel.
Code Pro: When you want web fonts that can catch the eye in a headline, Code Pro is your best choice. The characters are slightly more compressed than other fonts, giving them a touch more width and little less height. This creates evenly spaced letters that are easily readable at large sizes.
Arvo: If you like the look of web fonts with serifs, but don't want the font to be distracting, Arvo is a nice middle ground. Blending straight lines and old school curves, Arvo is a font with broad appeal to old and young readers alike.
Stay Away from These:
When you use the right font from the very beginning you don't run the risk of immediately alienating your visitors and potential customers. Choose one of the professional web fonts for your site and make the best first impression!
Social180 specializes in helping businesses Get Found, Communicate, and Grow. If your business needs to do a 180, contact us today so we can help you turn your vision into a reality! You can fill out our online form to see if we are a fit, or call us at 469-420-0180.