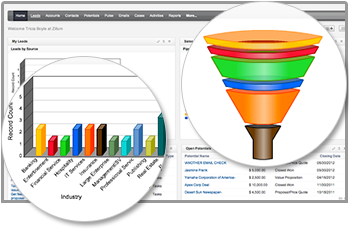 Yesterday, we spent the day at Zoholics in Dallas learning more about how the Zoho Suite of software and specifically Zoho CRM helps with business performance. The time was such a great investment, we felt compelled to share some of what we learned and how we see Zoho CRM helping small businesses grow with Zoho's Suite of software.
What the Zoho Suite of Software Products Does to Help Small Business
For almost 3 years, we have used Zoho CRM for our business and enjoyed many of the advancements Zoho has made for close to the same low monthly cost. In fact, we have helped over 10 clients deploy and integrate Zoho CRM into their businesses in order to help with business processes and client management. All the while, Zoho has been developing applications around their CRM system to help in many other ways.
Zoho's software may best be explained by categorizing it into three areas – Collaboration Applications, Business Applications and Productivity Applications. These three categories help explain Zoho's purposes for integrating them into small and mid-sized businesses of less than 500 employees in most cases.
While Zoho CRM falls into the category of Business Applications, this doesn't mean it does not have an impact on collaboration and productivity for small businesses. In fact, the same can be said about many of the applications in each of these areas. Their core category (or definition) doesn't mean they do not also apply in some ways to the others.
Why Zoho CRM could be the Best Small Business CRM System
Even though Zoho offers over 30 applications in additional to Zoho CRM for small businesses, we continue to see Zoho CRM as the flagship product for them for many reasons. Below are four of the common reasons we drift back to when helping select small business CRM systems for our clients.
– Attract New Clients: With Zoho's ability to integrate CRM processes into business workflows, small businesses can attract new clients by asking and receiving referrals from clients and business partners. In addition, the integration of Zoho Campaigns and web forms allows businesses to automate communication with interested prospects who visit their websites.
– Keep Clients Happy: One of the greatest challenges for small businesses is communicating with clients. Too often a sale is made and the communication thereafter drops dramatically. Whether it be for landscaping services for your home or a new swimming pool for your backyard, buyers want to understand the process and be communicated with throughout the process. Zoho CRM helps with this communication.
– Grow Word of Mouth Referrals: We all know the best new clients tend to come from word of mouth referrals from existing clients. Zoho CRM's workflows allow communication with clients throughout the process of serving them to the degree of making the smallest business look much larger and help assure the experience is exactly that the client desires.
– Better Manage Your Business: With Zoho Reports and Forecasting applications, small business owners can better manage cashflow and financial projections for their business. This becomes very important in peak seasons and with finding resources to help small business owners deliver their products and services.
Over the next few months, we will share more of what we and our clients are experiencing with Zoho CRM and other CRM systems for small businesses. Stay tuned for future articles on CRM systems and best practice or call Social180 at 469-420-0180 today if we can help you find the best small business CRM system for your business.