Millions of people worldwide visit YouTube daily. In fact, many of them do research about products and services before investing in them. YouTube can be an effective tool for promoting a business. Here are three considerations when creating a YouTube channel for a business.
What are you wanting to achieve with your Youtube Channel?
It's important to define your goal in setting up a YouTube channel for your business. You may want to create a list of the type of videos you want to upload in it. You may want to show your products and services where customers and prospective customers can see and learn about the quality of what you offer. You may want to use your YouTube channel to generate more traffic to your website. You may also want to share your business story with prospective customers. Whatever your purpose… make sure it is well-defined.
Hire an agency when creating a YouTube channel for business or not?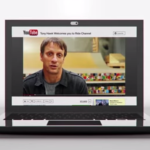 Creating and producing simple videos can be done using a camera phone or a video camera. If you're looking for high quality, you may want to hire a creative agency to help with the scripting, lighting and environment. You may also hire an Internet marketing company to help promote your videos to reach your audience.
Defining Success
YouTube's analytics and reporting tools are awesome. They allow you to measure how many people watch your videos and how many likes and dislikes each of your videos gain. Finding which videos get more views will help you learn what types of video content your audience is looking to watch.
For help creating a YouTube channel for business or any other Internet marketing services, Call Social180 at 469-420-0180.