Content marketing continues to evolve as an effective and efficient way for people and brands to communicate with customers. Still people contributing contemplate blogging versus using Facebook Notes to share and engage their audience. In this article, we compare the difference in blogging on a website versus utilizing Facebook Notes.
Is blogging better than Facebook Notes?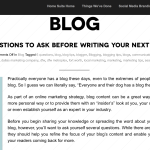 It is important to understand who you are and who your audience is. If 'you' are a business, then you need to know your customers. If 'you' are a person, you need to know your audience – which may or may not be the same. You have an identity different from your business. If your business is building custom luxury homes, you will likely write around those things interesting to those interested in custom luxury homes. However, you, as a person, should have a personality outside of custom home building.
Once you decide who you and your audience truly are (for today and tomorrow), determine where and how they will engage. If you're considering writing for a business and your audience is predominantly on Facebook, Facebook Notes is a serious consideration. If you are more interested in your articles being found in search as an authority in your industry or area of expertise, blogging may be better. This ties closely with knowing you and your audience.
Brand and Image are Important
If you're writing for a business, having a website with a brand is important. If you're writing for yourself, you may be the brand and your website might not be necessary. Take this into consideration when determining if you need to be blogging versus Facebook Notes writing. In fact, its important to think beyond this… some people within your business may have an identity. If so, it may be wise for these individuals to use Facebook Notes while your business uses a website blog. Either way, you have to know what you are trying to accomplish with your blogging or Facebook Notes. The desired results are the key.
In summary, Facebook Notes may be an effective way of communicating with individuals while blogging is often more important in building a brand. For help with branding, blogging or other marketing needs, contact Social180 at 469-420-0180.