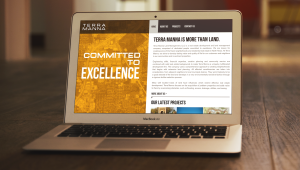 In today's society, one of the most important aspects for any business is to have a great website. The amount of transactions carried out online is ever-increasing, meaning it's in your direct interest to run a successful website. Consider the three keys to successful website design below to guide you in the right direction.
Domain Name
This is the first and foremost element of a great website. In a mad frenzy to get the website up and running, many business owners will grab any domain name on the market. However, this is the first thing your client sees, so make sure it is memorable in all the right ways!
You should spend a fair amount of time coming up with a great domain name. Aim for one that is both catchy and easy to remember. Typically, the shorter the better, as it reduces the amount of effort on behalf of the client when searching for your website.
Landing Page Design
Your landing page, or home page, should exceed your visitors' expectations and have the 'Wow!' factor that keeps them engaged in your website. This is as much of an art as it is a science, though some of the main factors to keep in mind are:
Color. Use complimentary colors to lure your customers in. Make good use of contrast in order to highlight specific regions of your website or direct visitors to certain text.
Style. Maintain a consistent tone throughout the entire page to avoid confusing your visitors.
Images. Making the best of images is a skill that many who call themselves web designers have not perfected. Too little and you run the risk of your website appearing boring and formal. Too much and you may overwhelm the visitor who will respond by closing the page. Strike a balance between the two in order to keep your customers around for longer.
Clarity
A great domain name backed up by an impressive home page design is useless if your website lacks clarity. If you distract your visitors from what you're selling, they will likely forget why they went to your website in the first place. Either way, you risk coming across as confusing, difficult, and a tad scatterbrained.
Anyone who visits your webpage will be doing so for a specific reason. Whether it's to purchase an item, request a service, or simply to find out more, they will have a set goal in mind. As such, it's your job to make it as easy as possible for them to find what they're looking for. If you do this successfully, you are guaranteed to leave them satisfied.
Three key tips to remember are:
Simplicity – Don't overdo it. Keep your website simple and easy to navigate.
Guidance – Design your website with a definite start and finish point in mind. Guiding your customer through the process makes it more likely to be effective.
Familiarity – People tend to migrate towards what they know, so keep your layout and design familiar to them. If you get too complex, you may scare potential customers away.